We are happy to announce our latest membership with mioty®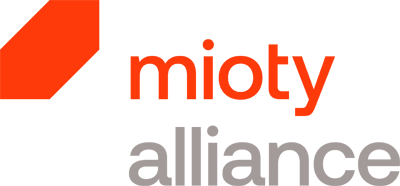 mioty® is a software based low-power, wide-area network (LPWAN) protocol that was developed to overcome today's and future wireless connectivity limitations. With its best-in-class reliability and scalability, mioty® is designed for massive industrial and commercial IoT deployments.
The core invention behind the mioty® technology is the Telegram Splitting Multiple Access (TSMA) method. As defined by the European Telecommunications Standards Institute (ETSI TS 103 357), Telegram Splitting splits the data packets to be transported in the data stream into small sub-packets at the sensor level.
These sub-packets are then transmitted over different frequencies and time. An algorithm in the base station permanently scans the spectrum for mioty® sub-packets and reassembles them into a complete message. Due to sophisticated Forward Error Correction (FEC), the receiver only needs 50% of the radio bursts in order to completely reconstruct the information. This reduces the impact of corrupted or lost bursts due to collisions and increases the resistance to interference.
ResIOT® goal is to design and develop all the hardware and software components needed (Service Center, Application Center, Base Station) to create and manage business & carrier-grade reliable network with a high level of availability and scalability.