Gateway Quick Start Guide e Manuale d'uso
Scegli il tuo modello di gateway e verifica componenti & hardware setup
Installazione Hardware
Antenne e Componenti di montaggio
Porte del Gateway
Configurazione Software
Parametri di Default
Il gateway viene spedito con alcuni parametri di base già preconfigurati. Di seguito i valori di default
.Indirizzo IP: 192.168.2.1 (Statico)
.Credenziali SSH: root (Username), Password vedere la documentazione all'interno della confezione del tuo gateway
.Indirizzo ResIOT Web Panel: http://192.168.2.1:50056
.Password ResIOT Web Panel: resiot1234
.MAC Address: stampato sull'etichetta argentata incollata sul case del gateway (es. 60B3D5DF5000)
.Gateway Serial: 0000 + MAC Address (es. 000060B3D5DF5000)
.RGRA Serial (ResIOT® Gateway Remote Access server): vedere la documentazione all'interno della confezione del tuo gateway
.Configurazione del Gateway: AUTO, gestisci e monitora il tuo gateway direttamente da login.resiot.io, VERSIONE CLOUD GRATUITA e pronta all'uso di ResIOT® LoRaWAN™ Network Server & IoT Platform (clicca qui per accedere)
Step 1. Registrazione del Gateway
per accesso remoto, gestione e monitoraggio del gateway su login.resiot.io, VERSIONE CLOUD GRATUITA e pronta all'uso di ResIOT® LoRaWAN™ Network Server & IoT Platform
Step 1.1: visita questo link per accedere alla pagina di registrazione (se non possiedi un account, creane uno nuovo sul nostro portale)


In questo esempio RGRA Serial è
UmAASU9UAAAAW5jcnlwdGurOJKUJAAAAwsSgAAYyU=

Step 1.2: inserisci il tuo RGRA Serial all'interno della casella di testo, come illustrato nell'immagine qui sotto. Il seriale RGRA lo trovi stampato su un etichetta allegata alla documentazione spedita all'interno della scatola del tuo gateway. I codici RGRA inseriti in qeusta pagina resteranno memorizzati per gli accessi successivi con il tuo account
Step 1.3: il tuo gateway è ora registrato con successo! procedi con i prossimi step per scoprire come utilizzare il tuo nuovo device
Nota: una volta completata la registrazione del gateway, una nuova tabella verrà generata in fondo alla pagina di registrazione stessa. Questa ti permette di visualizzare le statistiche del tuo device ed effettuare accesso e monitoraggio da remoto ovunque ti trovi! Di seguito un esempio

Step 2. Accesso al Gateway e Configurazioni di Rete
Connessione via Cavo
Accendere il gateway e connetterlo in rete tramite cavo Ethernet. L'indirizzo IP del device è preconfigurato in modalità statica ed è 192.168.2.1. Per accedere al gateway, configurare l'indirizzo IP del proprio PC all'interno del range: 192.168.2.2 – 192.168.2.254
Aprire il browser e visitare http://192.168.2.1:50056. Inserire le proprie credenziali del Web Panel (la password di default è resiot1234 – ti consigliamo di cambiarla al primo accesso!).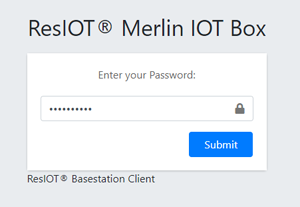 Dopo il login, verranno mostrate le statistiche principali del tuo gateway al centro della dashboard ed il menu primario di navigazione sulla sinistra dello schermo
Visita il menu "Ethernet Setup" e premi il pulsante blu "Edit LAN Settings" posizionato al centro della pagina, questo ti permetterà di cambiare i parametri di Rete. Premi poi "Save and Activate configuration" per confermare le modifiche. Attendi qualche istante per permettere al device di applicare la nuova configurazione di rete dopodichè il setup sarà terminato

Configurazione del Modem 2G/3G/4G LTE
Nel caso la versione del dispositivo fosse con Modem (gamma LTE), è possibile modificare i parametri di connessione dal menu "Modem 4G/LTE Setup" come nell'immagine qui riportata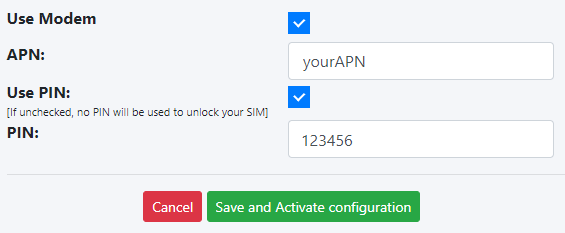 Step 3. Modi d'uso del Gateway
All'interno del menu "Gateway Configuration" è possibile trovare tutti i modi d'uso disponibili per il proprio gateway.  Di seguito un'illustrazione delle principali caratteristiche
(In questo esempio è attiva la configurazione Automatica)
AUTO (default)
ResIOT® Basestation Client
ResIOT® Industrial IoT Box
Semtech™ Packet Forwarder
AUTO (default)
Gestisci e monitora il tuo gateway tramite il portale login.resiot.io, VERSIONE CLOUD GRATUITA e pronta all'uso di ResIOT® LoRaWAN™ Network Server & IoT Platform (clicca qui per accedere)
ResIOT® Basestation Client
Connetti il tuo gateway ad un ResIOT® Server (Cloud o On-premises) con versione FREE, BUSINESS o CARRIER-GRADE. Di seguito una breve guida sul setup di questa modalità d'uso
Step 3
Accedi al software ResIOT® Merlin software installato sul tuo gateway. Dal menu principale visita la pagina Gateway Configuration. Premi dunque il pulsante verde "Add a gRPC Server configuration" e compila le due caselle di testo con i valori copiati dallo step precedente. Premi il pulsante "Salva" per confermare le modifiche
Step 4
La configurazione è completata. Ora non ti resta che attendere qualche secondo e il tuo ResIOT® Server creerà automaticamente il nuovo gateway all'interno della piattaforma

ResIOT® Industrial IoT Box
ResIOT® LoRaWAN™ Network Server On-premises e ResIOT® IoT Platform all in a box con licenza gratuita e illimitata. Nota: dopo aver attivato questa modalità per la prima volta, ti ricordiamo che a seconda del modello di gateway acquistato, potrebbero volerci fino a 5 minuti perchè il server ResIOT® sia operativo. Di seguito una breve guida sulla configurazione di  ResIOT® Industrial IoT Box
Semtech™ Packet Forwarder
Configurazione standard per Packet forwarder Semtech™
Configurazioni Opzionali
Configurazione del Firewall
Se hai bisogno di configurare un Firewall per il blocco del traffico non necessario, ti ricordiamo di lasciare abilitati i seguenti indirizzi IP, necessari per l'accesso e la gestione da remoto del gateway, la comunicazione con la ResIOT® Console e il tuo ResIOT® server(FREE, BUSINESS, CARRIER-GRADE)
34.78.157.72
35.195.250.173
54.36.116.92
35.187.11.138
per ResIOT® Cloud, Business/Carrier-grade o on-Premises hai inoltre bisogno di aggiungere l'inidirizzo IP del tuo ResIOT® server
How to install ResIOT® Base Station Client
We're excited to announce the ResIOT® LoRaWAN™ Base Station Gateway Client, a brand new tool from ResIOT you can install over your LoRaWAN™ gateways.
Installing the ResIOT® LoRaWAN™ Base Station Gateway Client will allow you to connect your LoRaWAN™ gateway to our servers and to fully configure your LoRaWAN™ gateway directly from the ResIOT core platform. Once installed and configured properly, you won't need physical or remote access to your gateway anymore, or to edit json configuration files manually, the client will take care of it all for you!
Thanks to the ResIOT® LoRaWAN™ Base Station Gateway Client, you will able to:
communicate with the API of our ResIOT® platform via a secure, gzip enabled(low traffic) GRPC connection
setup your gateway via ResIOT to connect automatically to the ResIOT platform
automatically retrieve a valid gateway ID from our servers
connect your gateway to network servers using TCP(via a Mosquitto protocol) instead of UDP
automatically provision your gateway to our ResIOT servers. You will be able to start seeing alive messages in your log in no time
remotely reboot your gateway
add/modify the frequency plan, power level, tx gain and location of your gateway
monitor your gateway resources remotely, such as RAM and CPU usage, free HD space and so on…
review your gateway status over the Stats -> Gateway Stats ResIOT® page
connect your gateway to multiple LoRaWAN™ servers via udp
automatically retrieve updates from our servers, your tools will keep auto-updated!
After downloading and installing the ResIOT® LoRaWAN™ Base Station Gateway Client, all you have to do is retrieving the IP of your gateway and visit the following page in your browser: http://[YOURHOST]:50056
The first time you access your page you will be prompted to choose a password.
How to configure a gateway with ResIOT® LoRaWAN® Base Station Gateway Client
Login to your Gateway web panel. At the top of the page you can find the "Change API Token and GRPC Host" section. You will need to fill in those fields to connect the gateway to the network server. The api token is needed for the platform to confirm which user the gateway belongs. The GRPC Host is needed for the gateway to know where the ResIOT Api server is running.